WHICH REPLACEMENT WINDOW MATERIALS ARE BEST?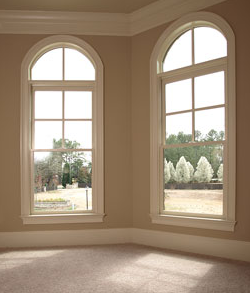 You have many options when it comes to selecting the materials used in the frame of your Middle Tennessee, Southern Kentucky & Northern Alabama replacement windows. Here is a review of the most commonly used materials, with the pros and cons of each. The replacement window experts at Integrity Roofing TN LLC can help you choose the best materials for your home.
 
VINYL WINDOWS
Windows manufactured from vinyl represent the largest market share in the replacement window business. Windows made from high quality structural vinyl are strong and provide very good energy savings, with moderate to high R-values (a measure of resistance to heat flow). The higher the R-value, the greater the resistance and the higher their energy efficiency, which will help reduce heating and cooling costs.
Vinyl windows are one of the more affordable replacement window choices. Price variations are dependent upon such factors as the glass package and sash options, as well as the style of window selected. Vinyl windows can be easily customized and are available in a wide range of styles, shapes and sizes.
Vinyl gives the homeowner a choice of many different colors. The color is actually part of the vinyl, making them scratch resistant. These units never need to be scraped, painted, or stained. Your windows will always look great!
Whether you are looking for esthetic reasons, energy efficiency, costs, or ease of maintenance, vinyl replacement windows are an excellent choice in replacement windows.
Benefits of Vinyl Replacement Windows:
Outstanding energy efficiency
No maintenance, including no painting
Custom fit and sizing
Wide variety of styles
Economical cost
FIBERGLASS WINDOWS
Thanks to advanced manufacturing techniques, fiberglass windows are among the strongest and most energy efficient windows available. Fiberglass window components are made with extreme precision, strength, and cost-effectiveness. The result of this process ends with an extremely durable fiberglass frame that can be readily shaped and fabricated.
In addition to strength, the fiberglass and epoxy resins comprising fiberglass window components are smooth and capable of accepting a wide variety of custom, color-through colors. This benefit sets fiberglass replacement windows apart from vinyl or aluminum replacement windows, which should not be painted after installation.
Benefits of Fiberglass Replacement Windows:
Stronger than wood or vinyl and can therefore be used to build larger replacement window units
Equal, if not better, insulating properties (R-factors) than wood due to the amount of insulating air "trapped" during the manufacturing process
Maintenance free and stand up to the harshest of weather conditions due to their impermeability to moisture
Fiberglass, due to its primary components of glass fibers and resins, expands and contracts—along with weather changes—in a uniform manner; therefore allowing the frame to maintain its integrity
Tightly engineered and constructed resulting in lower overall air infiltration in extreme weather
Can be painted after installation
WOOD WINDOWS
For both aesthetic and practical reasons wood windows have long been a top choice for residential windows. They are made from a variety of wood types including pine, fir, redwood, cedar, mahogany, and cypress.
Since wood windows have better insulation properties than metal, they are a more energy efficient window, although falling short of vinyl or fiberglass in this area.  Further, since wood is easily manipulated in terms of style and decor, wood windows are popular for custom window jobs that require unique design specifications.
Wood windows can be painted to match any exterior color of the home.  One drawback, however, is that wood windows need to be painted regularly to avoid undesirable paint chipping and exposure of the wood to the elements which can lead to rot.  For this reason, if you are looking for a window that requires minimal maintenance at a lower cost, a better option may be a vinyl or fiberglass window.
Still, if a wood window is properly cared for, it can be made to last for many years.
Benefits of Wood Replacement Windows:
Ability to paint window any color you desire
Wide variety of wood windows products to choose from
Does not attract condensation like an aluminum window
Adds value and "curb appeal" to your home
ALUMINUM
Aluminum replacement windows are known for their strength and durability.  Aluminum windows were the first popular type of replacement window available and continue to be one of the strongest window materials offered.
Aluminum windows do not offer the high level of energy efficiency found in wood, vinyl or fiberglass windows. However, aluminum windows can cost less than alternatives for a budget conscious homeowner.
Aluminum is often used as an exterior shell to strengthen wood windows, creating what is known as "clad" windows.
Benefits of Aluminum Replacement Windows:
Do not rust and do a great job of resisting weather
Blocks noise better than other window material types because of its heavy weight
Typically the most cost effective window material
Because of their strength and durability, aluminum windows are good for commercial projects, oversized windows, and odd-shaped window applications
Can be painted (unlike vinyl windows) but will not look as good with paint job as wood windows
Improves the overall look of your home
Composite Windows
Composite frames claim to offer the best qualities of both vinyl and wood. If the window frames are anything like their decking and lumber composite counterparts, it should hold true that they offer the strengths of both wood and plastic.
Composite windows require little to no maintenance. Their resistance to warping, rotting and their strength against cold and heat make them a great choice for busy homeowners.
Aesthetic concerns are often the most important issue when looking for windows. Composite windows may be suitable if maintaining the look of wood is desired.  Look for composite windows utilizing reused or recycled vinyl or other plastic material.
Benefits of Composite Replacement Windows:
Look of wood with performance of vinyl
Low maintenance
Can be painted
More expensive than other choices
Trust the Middle Tennessee, Southern Kentucky & Northern Alabama Replacement Window Professionals!
The replacement window experts at Integrity Roofing TN LLC are ready to help you reduce energy costs and make your home more beautiful and comfortable. Contact us for a free estimate today by calling 866-749-4488 or completing our on-line quote request form.